Tub & Shower Enclosures
Change the look of your bathroom with tempered glass
At The Glass Emporium, we take pride in designing, fabricating and installing the most stunning and functional shower enclosures in the industry.

We can also repair existing shower enclosure, broken hinges, damaged glass, rollers, door seals and sweeps. Our technicians will repair your old enclosure or if unrepairable we can remove, fabricate and install a new one.

When it comes to your new shower doors or tub enclosure, there' s more to consider than you think. Beyond choosing a frameless, semi-frameless, or bypass enclosure, you also need to consider hinges, handles, f finishes, and glass surface protection. With a wide variety of options available, The Glass Emporium is your source for everything you need to design the shower of your dreams. Take that first step toward a new custom-fitted shower enclosure for your home. Pick up the phone today and call to speak with a member of The Glass Emporium team about a shower enclosure installation. Stop by our showroom to see the possibilities.
Repair

Is your shower door leaking? Is the door not closing properly? Call us! you need a "Shower Door Tune Up". A Shower Door Tune Up includes, replacing your shower door seals and sweeps, resealing silicone and realigning the door. We also repair broken or damaged glass, rotted frames, broken hinges or rollers. Our shower repair services covers it all. We make repairing your shower enclosure a quick and easy process.
Replacement or Renovation?

Sometimes, repairs aren't enough. If your shower doors are old ,not functioning properly or out dated it may be time to replace them with that new door you've been dreaming about. Give us a call and we will design a new shower door so you can enjoy the easy operation and water tight seal that comes from expertly installed shower door.
The Glass Emporium Installation Process
The installation team at Glass Emporium has decades of experience with all materials and supplies delivered directly by our company-owned trucks. We also cover all affected surfaces with drop clothes. and vacuumed clean; and all garbage carted away.
Here's the process you can expect when you work with Glass Emporium for your shower door installation:
1. DESIGN
Our experts will work with you to design the shower enclosure of your dreams, with special attention to functionality. During the design process, you will select the style of hardware ie. hinges, handles, finishes, and features that will be included in your enclosure. You'll also have the opportunity to choose from our wide variety of clear, tinted or patterned glass options.
2. MEASUREMENTS
The measurements are the most important part. It's important for your shower doors or enclosure to be precisely measured. We have 33 years experience. We use levels to determine out of level and plumb conditions and order glass accordingly. Precise measurements ensure that enclosure fits and functions properly for years.
3. INSTALLATION
Once glass and hardware arrives on job they are inspected for damage. Hardware is laid out; holes are marked and carefully drilled; channels or clamps are installed; the glass set; the door is aligned; hinges and handles installed; and finally, seals and sweeps are installed.
4. SEALING THE ENCLOSURE
Lastly, the enclosure is thoroughly tested for door alignment and when all adjustments are made than seals and sweeps are installed and all glass edges AND trim joints are carefully siliconed.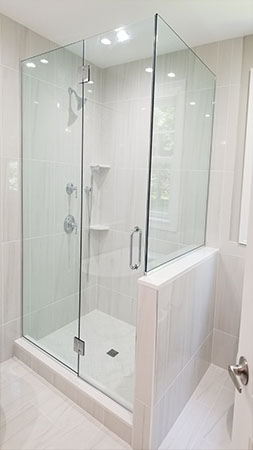 TYPES OF SHOWER DOORS
At Glass Emporium, we offer semi-frameless, frameless and bypass shower doors. All our doors and enclosures can be customized with a variety of frames and finishes, ensuring that your shower fits in with the décor of your bathroom.
Having trouble deciding what your new shower should look like? Visit our showroom to see glass and hardware options in person to get an idea of what design would work best in your bathroom. Our shower door options include:
BYPASS ENCLOSURES
Create an open, airy feel in any bathing environment with this system. Our semi frameless bypass enclosures have two sliding frameless doors that come with a rounded or flat header and tubular towel bars mounted through 1/4ʺ or 3/8" tempered glass panels, to save space in your bathroom. Our bypass enclosures can be custom sized to fit any opening, including the use of inline panels for extra-large widths and 90 degree returns.
Each unit comes with standard features:
1/4 or 3/8 Inch-Thick Tempered Clear Glass
Towel Bars on Each Glass Panel (image shows chrome hardware)
Two-Finger Pulls for Easy Opening and Closing
Frameless Glass
SEMI-FRAMELESS ENCLOSURES
Looking for an elegant shower enclosure without the cost of a heavy glass system? Our semi-frameless shower enclosures include a frameless swing door.
Each unit comes with standard features:
1/4-Inch-Thick Tempered Clear Glass
Easy-Grip C Handle Pull
Magnetic Latch
Exposed High-Polished Edges
Upgraded Hardware Options Available
Other Glass Colors and Patterns are Available
FRAMLESS ENCLOSURES
Frameless enclosures create a clean and modern look in any bathroom. By maximizing the use of glass and minimizing the use of metal framing, a frameless enclosure produces an open look and feel.
Each unit comes with standard features:
3/8 or 1/2-Inch-Thick Tempered Glass (image shows chrome hardware)
Pivoting Door with Push or Pull Abilities
Exposed High-Polished Edges
Many Other Hardware Options Available
ROBO ROLLER SHOWER DOORS
Create a sleek, modern design of glass with maximum durability with "Robo Roller" shower doors, featuring the latest European "all-glass" design that offers clean and sleek lines. For a look and feel that's unique to your bathroom.
Comes in 3/8"-1/2-Inch-Thick Tempered Glass (image shows chrome hardware)
Ladder Handle
Available Hardware Colors are Polished Stainless Steel, Brushed Stainless Steel and Oil Rubbed Bronze
High Flat Polished Edges
Hardware Options
We have a variety of different options to make your customized glass shower a truly unique and one-of-a-kind design. Shower hinges, frames, handles and clamps available in many different finishes. Let your imagination run wild! Following is a listing of some of the hardware and finishing options we offer. Contact us to view a more complete selection or stop in.
Glass Options
Hardware Finish Options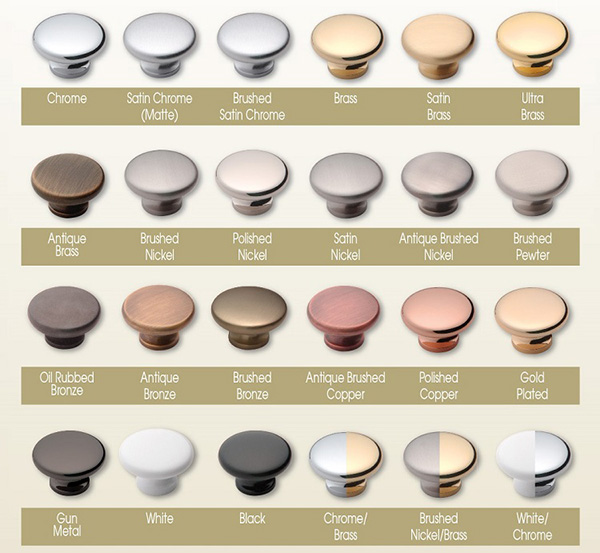 Besides the traditional Silver, Gold, Satin and Brushed-Nickel Glass Emporium, you may now choose to match your enclosure to more colorful elements of your bathroom through our selection of Power Coat Finishes.
Your unit may be powder coated in one of 18 decorator colors, all formulated to match popular tubs, showers and accessories specified in today's luxury bathrooms.
Hardware Handle Options

Hardware Hinge Options

Protective Coating Options
Protective coating on your glass shower doors ensures the longevity and clarity of your new enclosure!!! The porous nature of standard glass allows dirt, grime and soap scum to easily accumulate. The Glass Emporium offers several options to protect the glass from water spots.
Shower Guard is a coating applied by Guardian Glass a glass manufacturer located upstate New York. This coating is a coating applied to one surface, the inside surface of the glass, leaving a better anchoring surface for hinged door applications. It comes with a limited life time warranty from the manufacturer.
Diamond Fusion is a coating applied to the glass by the fabricator to all surfaces. It is a good option for sliding shower door applications. It comes with a limited life time warranty from the manufacturer.
Protective Coating Options
Bio-Clean :CRL Effectively Removes Water and Mineral Stains, Lime Scale, Calcium, Soap Scum, Oxidation, Rust, Tree Sap, Paint Overspray, Mold, Tarnish, Salt Spray, and Mildew From Glass and Other Surfaces
Shower Door Surface Protector: CRL TPC Surface Protector will actually seal the pores of glass, porcelain, ceramic, plastics, polished metals, fiberglass, and marble to make the surface water, soil, and stain resistant. The clear coating guards against the adhesion and build-up of dirt, grime, mold, mildew, rust and mineral deposits.
HARDWARE WARRANTY INFORMATION
At Glass Emporium, we stand behind the quality and durability of all the frameless glass hardware and accessories that we distribute and / or install. All of our hinges, pulls, knobs, and other components undergo strict quality-control measurements, testing, and inspections and have been engineered to meet or exceed all industry standards. Our hardware is covered by a limited 3-year guarantee against workmanship and manufacturing defects.
INSTALLATION WARRANTY INFORMATION
At Glass Emporium, we stand behind our installation for 2 years against leakage and anchoring of hinges and hardware under normal usage.
We Respect Your Home.
No matter what the repair or installation we do, we use drop clothes, and leave your home vacuumed and cart away all debris.