Screen Products
Protecting Your Home During the Summer!
Serving Long Island
Whether it's a torn patio door window or storm door screen, we have the materials and expertise to help with your repair needs. Stop by our shop for a prompt and cost effective solution for smaller repairs, or contact us for on-site assistance with larger repairs.
Custom Screens Sold and Repaired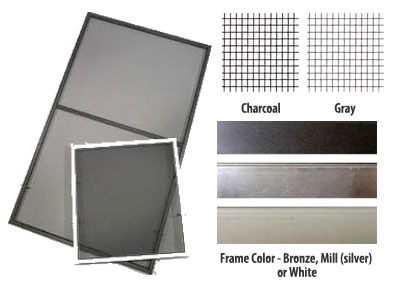 Glass Emporium is your one-stop-shop for window and door screen repair and fabrication. Our screens are professionally built and fabricated. We offer the following screen materials: fiberglass, aluminum insect screen, stainless steel solar, high visibility, room darkening and pet resistant. We repair both standard and custom sized screens. .
Replacing the screen is the most cost effective option if the frame has not been damaged. If the frame has been bent or damaged, Glass Emporium can fabricate a new screen to the exact dimensions of the old frame. Common aluminum frame sizes are 5/16", 3/8" or 7/16" thick by 3/4" wide. Frame colors available are white, bronze and silver. We stock spring, clip and latch attachment hardware that will meet most residential and commercial specifications.
We carry:
Fiberglass Screen Wire: Fiberglass screen is the most common screen material used for both windows and for screen door replacement. Fiberglass screen is strong, yet soft to the touch, which makes it the perfect screen material to keep insects and other objects out of your home. Available in black and grey.


Aluminum screen wire: : Aluminum screens are made up of aluminum wire mesh that is both rugged and durable. Aluminum screen fabric typically comes in two colors to complement your home: charcoal and bright aluminum.


Pet Screen Wire: Homeowners with dogs and cats should consider using fiberglass pet screen or stainless steel screen in their window and door screens to keep their pets safe and to prevent shredded screens. Pet screen is made from heavy-duty, vinyl-coated polyester, is stronger than fiberglass and aluminum screen and is highly resistant to tears and punctures by pets. Another alternative is stainless steel screen - strong and see-through. We also mount cat and dog doors in screen doors and windows.


Solar Screen Wire: olar screen fabric provides heat control, glare control and ultraviolet protection. Dark solar mesh offers excellent visibility and glare reduction. Solar mesh offers increased solar energy protection.
You are welcome to bring your screen in for repair. We promise a quick turnaround time on all orders.
Ask About Quantity Pricing
Recent Projects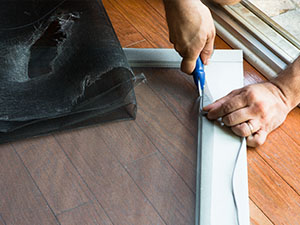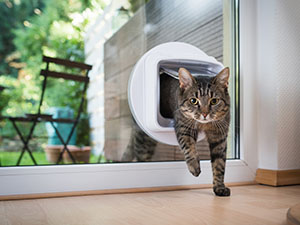 We Respect Your Home.
No matter what the repair or installation we do, we use drop clothes, and leave your home vacuumed and cart away all debris.
Call Us to Get
FREE Estimates!
631-544-4284